Featured Image: Laura Jayne Hodkin
Music and art are two creative industries that enhance one another, so we believe that it is essential to recognise the artistic talents behind many music artists. Laura Jayne Hodkin is an animation director and artist, who often focuses on the humorous aspects of women's lives. If we were to describe Hodkin's work in one sentence, Florence Given meets Broad City feels quite appropriate- it's that iconic.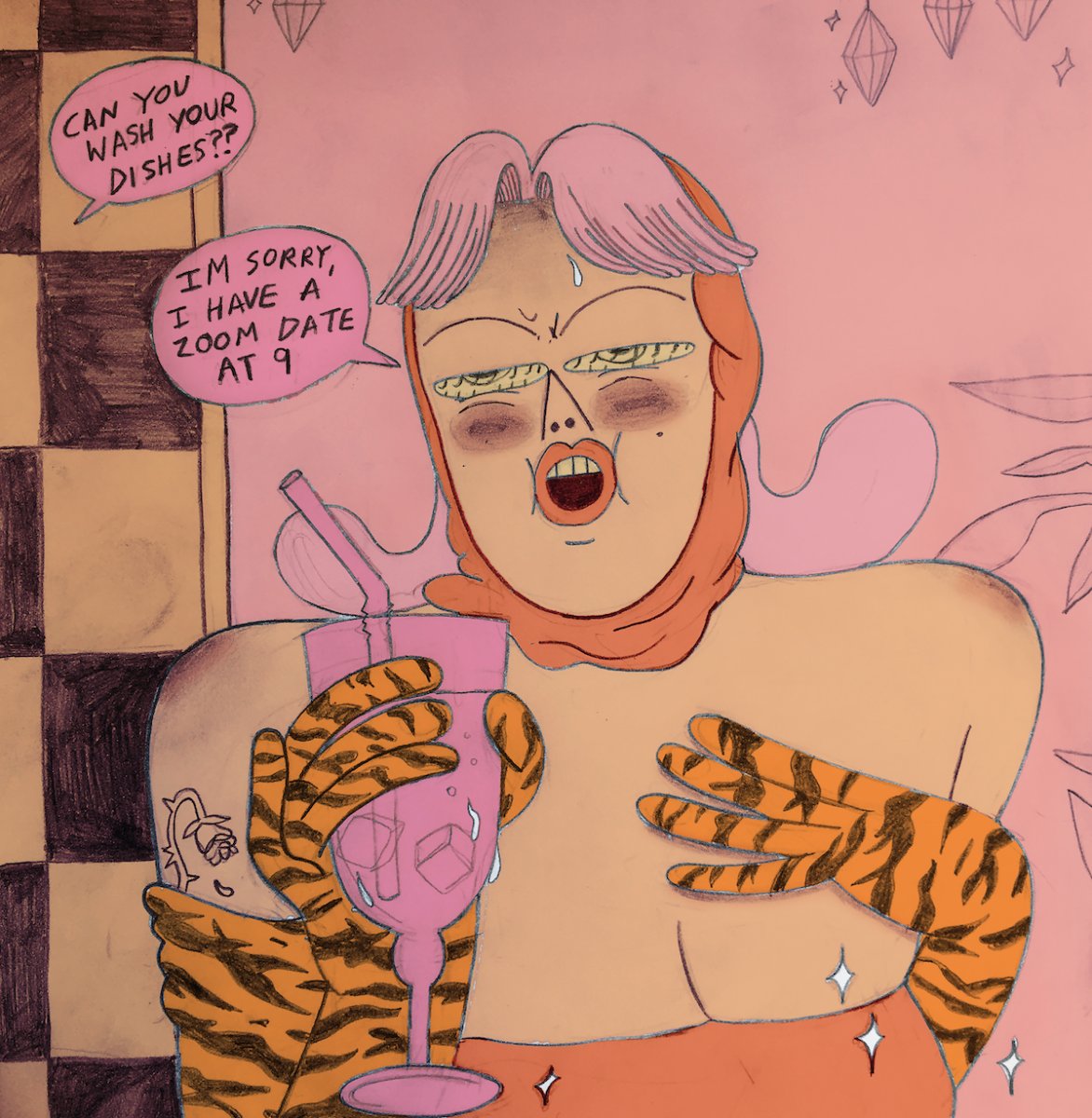 A previous student of the Royal College of Art, Hodkin's graduate film, Hot and Tasty, won the Random Acts Award at the London Short Film Festival in 2020. The animated short film featured two girls drunkenly stumbling into a chicken shop after a night out, only to discover a crime scene. Upon introducing yourself to Hodkin's work, Hot and Tasty is a great place to start. It features many of the themes that are central to her art, such as outspoken women and dynamic female friendships.
The London-based artist is multitalented, with the music world being anything but beyond her capabilities. In 2018, Hodkin directed and animated the music video for 'Bébé', by the French group, Odezenne. Bold, bright and comical, the video focuses on one girl's experience in a night club. Hodkin creates animations so smooth that dancing, drinking and throwing up become merged in the video- almost as if they are all one fast motion. This portrayal may be considered representative of how overwhelming and disorientating being drunk can feel, fitting with this fast-paced, eclectic dance track. The vivid display of both the red and blue colour scheme fighting for attention throughout the video also feels intentional. The scenes are mostly red when the girl is having fun and blue when she realises, that she may be too drunk, sweaty and a bit uncomfortable.
However, the drink only aids in giving this dancing queen the confidence to continue being herself, regardless of whether anyone else may be looking. The girl visibly sparkles when dancing and instantly smirks whenever she spots any wine, downing it in one. On her website, Hodkin states that she has a love for creating female characters that can be 'unapologetically themselves'. Where others may be reserved or too embarrassed to express themselves so vibrantly, the girl is unashamedly having a great time- mainly all by herself. At multiple points, the boy who appears to be with the girl seems disconcerted at her drunken fun. The lyrics of 'Bébé' imply that the song is from the perspective of the man, with lines such as "don't make me ashamed" and "people complain the cup is full". It is therefore interesting to note that Hodkin, and possibly the band, chose to depict the video from the girl's perspective. This feels like an overall comment on nightclub culture, with girls increasingly paying less attention to the male gaze. They are there solely to enjoy themselves and not conform to the expectations of others.
Hodkin also produced video animations for indie band The Magic Gang. Their 'Death of the Party (Bonus Edition)' vinyl differed from most, by being presented as a zoetrope picture disc. This means that when the disc spins on the turntable, the images on the record become animated. Flowers swirl and butterflies flutter when the record is played, creating an unusual, psychedelic effect.
During lockdown Hodkin has refused to be dormant, contributing to both the Flatten the Curve and Seize the Awkward campaigns, with her ingenious animations and illustrations.
Make sure keep up with Laura Jayne Hodkin and her work: